2023 Pacific Island Bee Congress Program At A Glance & Important Information for Fijian Beekeepers
The image is the calendar of events for the upcoming 2023 Pacific Island Bee Congress.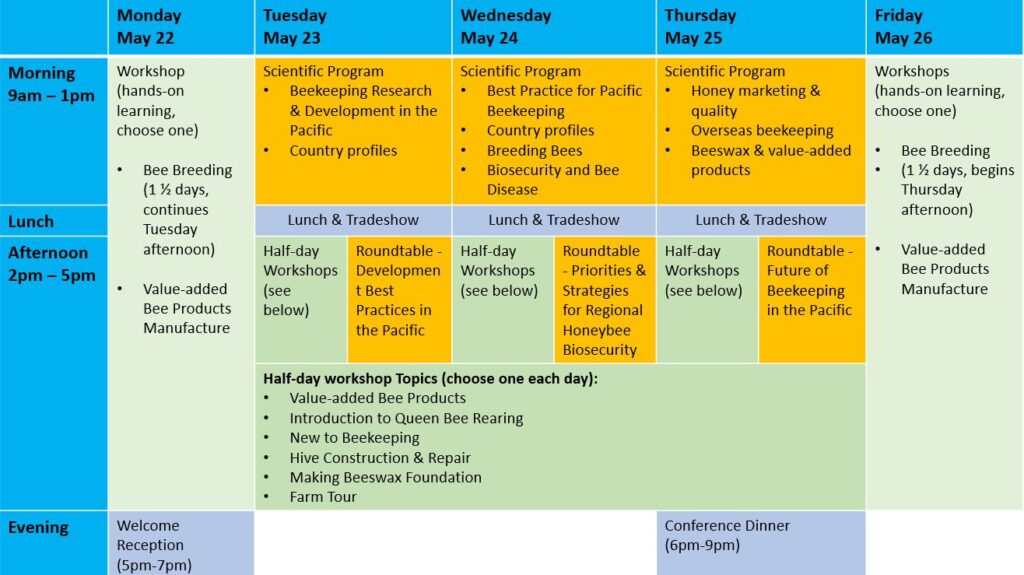 The cost to Fijian beekeepers to attend the Tuesday through Thursday congress sessions is $20 FJ per day, payable on-site same-day, or in advance.
This $20 fee includes lunch, admittance to the morning session, and an afternoon half-day workshop or tour.
The Thursday conference dinner is an extra charge for those attending the day's sessions.
**Workshop capacity is limited.
**To reserve your spot for a particular workshop or tour, register online for no charge at: https://www.eventbrite.com/e/1st-pacific-islands-bee-congress-tickets-477609592147
The Monday and Friday workshops are primarily for overseas attendees who have limited opportunity for similar workshops in their home country.
FBA will hold similar workshops for Fijian beekeepers on future dates, as it has in the past.